This blog can be such a great toy at times. I can write some ridiculous crap here requiring people to send me pictures,
and many of you will actually take and email me amusing pictures!
God, I love the internet.
The esteemed Hughman, our Celebrity Guest Judge, has kept a stern eye on the proceedings. For example, he adamantly disqualified the following entry:
>
on the basis that giving a prize to my own husband would smack of nepotism. A nice photo, nonetheless, featuring the Sober Husband himself, distinguished in a silk smoking jacket, with a fabulous Fashion Girl and a background of books. This could have been a winner, if not for the ethics and morals of our Celebrity Guest Judge.
Thankfully after some discussion we agreed upon our winners! So, I present to you our Mrs. Drunken Housewife, our Texzmissy! This photo has it all: the feet are up, the cleavage is on display, and there's a drink and a book. All that is missing is a cat and a visible tattoo. In a way, there is even a Fashion Girl here, as the picture was taken by one of Missy's very own Fashion Girls, a ballerina at that. As Hughman says, "Missy got my vote for originality, inspired as she was to create a real life tableau based on the DH's blog artwork. It's like those great works of art thingys where everyone pretends like they're in The Last Supper! Only drunker! And with books! Way to go Missy!" (Incidentally the Drunken Housewife is having some real estate envy here over the gorgeous pool with waterfall and palm trees).
And next, we turn our attention to declaring our Mr. Drunken Househusband:
It's the one and only Silliyak, racking up another win (he previously won the Give Iris A Nomme Du Blog contest, which was quite a heated contest at that). Silliyak attempted to drop out of this contest, but the adamant judges would not permit such frivolity. If my house ever catches on fire (and it was nearly set on fire last year when our resident pet recovering alcoholic started a kitchen fire), I will want the stalwart Silliyak nearby to rescue the cats and booze! Hughman sez, "Silliyak was the only contestant to use photoshop and cleverly included DH-ish props : the cats, the wine... and fireman things! Who doesn't love to stop at a fire and stare at the firemen? Anyone? OK. Still a great pic."
We also have a Grand Prize Winner, Jack's Raging Mommy. However, although I hate to be a callous tease, we're not going to show the hottest of Jack's Raging Mommy's pictures which won the prize. Instead, we present to you this Safe For Work Version. JRM treated us to some amazing pictures which we could showcase only if we hid her identity, and we felt it would get figured out, and indeed we do try to keep things safe for our dear working readers here. In summary, let's say that if one got Jack's Raging Mommy liquored up enough and Jack himself is soundly enough asleep, one might be in for a real treat. A devoted mommy with a raging sexuality and tits to die for: my kind of woman! Hughman says, "JRG - It's hard to get hotter than this and I say that as a Certified Gay Man. The pic reminds me of some famous painting but I can't remember which one. Oh yeah, the one where the woman has the awesome rack. Boo-ya!"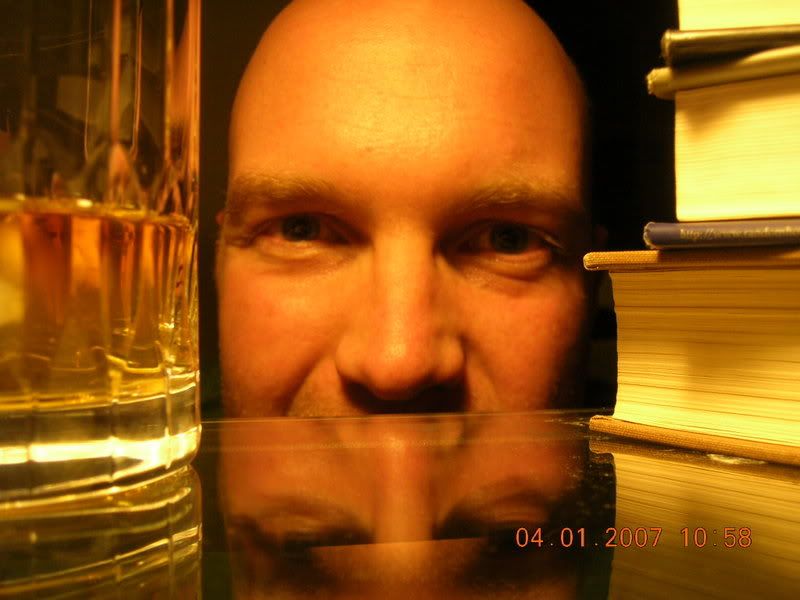 First Runner Up goes to Jim, for a great picture showcasing my twin loves, booze and books. Hughman sez, "Props also to Jim for actually looking humorous in his pic. We knew ya had it in ya." Bonus points for (accidentally) including a book by someone who has been on my To Read List for years, Exley, and for being in the state of Maine, although we'll just have to take your word for that.
And here's our next runner-up, the formidable Lemonjuicer (gin and tits, a winning combination! I'm sure this picture will win her many fans!) We would have had another runner-up, our beloved Susie Derk (who submitted a picture of herself with the actual Celebrity Guest Judge, Hughman, very clever!), had she not (a) submitted her entry so late (I actually received it WHILE I was composing this paean to our winners and (b) disqualified herself from prizes modestly on the grounds that she had an unfair advantage in using Celebrity Guest Judge Hughman as a prop.
The prizes: our Mrs. Drunken Housewife, Mr. Drunken Househusband and Grand Prize Winner may select one of the following at their discretion: a post of their own choosing (they dictate the subject, I write it) OR an autographed photo of the Drunken Housewife and a book from her library (Their choice may well hinge upon their comfort level with giving out their mailing address. It's safe with me, as I'm far too lazy to stalk anyone successfully). Our runners-up, Lemonjuicer and Jim, may either write a guest post OR may request a post on a subject of their choosing.
Thank you, everyone, for playing!